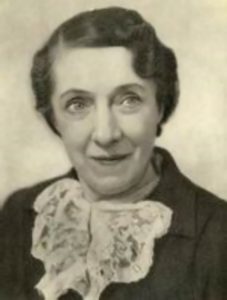 Agrippina Yakovlevna Vaganova
Վահանյան Ագրիպինա հակոբի
(Агриппина Яковлевна Ваганова) is born on 26(14) June 1879 in Saint Petersburg. Her father, Akop Vaganov (Акоп Ваганов) is Persian Armenian from Astrakhan, Russia. His original name was Vahanian (…) but he changed it to the Russian-sounding Vaganov as was usual at that time for men wanting to make a career. After serving as a non-commissioned officer he retired and moved to the capital, St. Petersburg. Since he was a great lover of ballet, he took the job of a modest kapeldin (usher) at the Mariinsky Theater. Her mother is Russian.
She is accepted into the Imperial Ballet School (later Kirov Ballet) of the Mariinsky Theatre in Saint Petersburg.
She graduated from the Classe de Perfection of the former Prima Ballerina Evgenia Pavlovna Sokolova (she was also trained by Yekaterina Vazem, Christian Johansson, Lev Ivanov, Nikolai Legat and Pavel Gerdt).
έγινε δεκτή στο μπαλέτο του Θεάτρου Mariinsky. joins the Imperial Ballet upon her graduation. Remained as dancer of the στο corps de ballet for many years.
έλαβε τον τίτλο της "μπαλαρίνας", the Ballet Master Nikolai Legat cast Vaganova as the Goddess Niriti in his revival of Petipa's 1889 grand ballet The Talisman. Vaganova's portrayal was a great success, and won her promotion to the rank of Prima.
she chose to retire to concentrate on teaching. She started to teach ballet at the School of the Baltic Fleet which was founded and led by Akim Volynsky.
Vaganova began teaching at the Choreographic College, so at that time was called the former Imperial Theater School situated on Rossi street (after the revolution ballet department was separated from the Drama and Music).
After the October Revolution the future of ballet in Russia looked grim because of its tradition as court entertainment. Vaganova "fought tooth and nail", as she put it, for the preservation of the legacy of Marius Petipa and the Imperial Ballet.
she was an artistic director of the ballet of the Leningrad Opera and Ballet Theater (Kirov Ballet).
she staged the classical version of Swan Lake by Lev Ivanov and Marius Petipa with Galina Ulanova as Odette, Olga Jordan as Odile and Konstantin Sergeyev as Prince Siegfried.
Published her book « Basic Principles of Classical Ballet ». she published her famous book Fundamentals of Classical Dance: it has withstood at least six editions in Russia and was translated into many languages. Along with Boris Shavrov initiated the establishing at the Leningrad Conservatory of pedagogic department for training of future ballet teachers which she began to manage. There, some of her dance school alumni became her students.
she revived La Esmeralda partly with her own choreography.
she is no more artistic director of the ballet of the Leningrad Opera and Ballet Theater (Kirov Ballet).
Her last graduating class was in 1951, the year of her death. Agrippina dies on 5 November. She is buried at the Novo-Volkovskoie Cemetery in Saint Petersburg, Russia
Shortly after her death, on 1 November 1951, the Choreographic College on Rossi Street was renamed in her honor; in 1961, it received the title of "academic" and in 1991 it began to use the name Vaganova Academy of Russian Ballet.

She received two decorations.
References
Kazinyan, Aris (25 June 2009). "УРОКИ ТАНЦА АГРИППИНЫ ВАГАНОВОЙ". Golos Armenii (in Russian).
Амиржамзаева, О. А.; Усова, Û. В. (2002). Самые знаменитые мастера балета России (in Russian). Вече. p. 34.
Garafola, Lynn (2005). Legacies of twentieth-century dance. Middletown (Conn.): Wesleyan university press. p. 22. ISBN 0819566748.
Snodgrass, Mary Ellen (2015). The Encyclopedia of World Ballet. Rowman & Littlefield. p. 316. ISBN 978-1442245266.